Dental Care
The Importance of Dental Care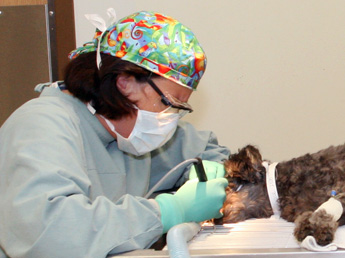 Dental care is one of the most important parts of your pet's preventive healthcare plan. Clean teeth and a healthy mouth do more than just prevent bad breath - proper dental care is essential in preventing periodontal disease. Periodontal disease, caused by the build-up of bacteria and plaque on your pet's teeth and gums, results in bleeding and severe inflammation of the gums, gum recession, alveolar bone loss and tooth mobility. As the disease progresses, the bacteria can travel through the blood and damage the heart, liver and kidneys. Regular dental cleanings can prevent the spread of periodontal disease and keep your pet healthy.
Webster Groves Animal Hospital & Urgent Care Center utilizes state-of-the-art veterinary dental equipment to thoroughly clean your pet's teeth. We offer dental radiology in order to accurately determine the best treatment for your pet's teeth. In addition, we offer periodontal treatments using Doxirobe gel, and dental sealant treatments using OraVet, to keep your pet's teeth clean and prevent the spread of periodontal disease. If your pet's teeth are damaged, we can restore and repair teeth using light-cured composite fillings, similar to those used in human dentistry.
Dental Packages
Please note: all prices are subject to change without notice.
Dental scale and polish
• $253.00 - $295.00 for pets under 5 years old
• $295.00-341.00 for pets 5 years and older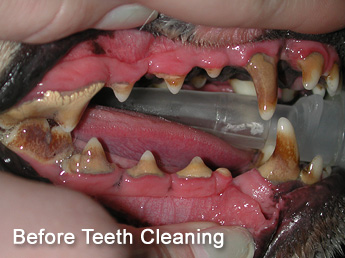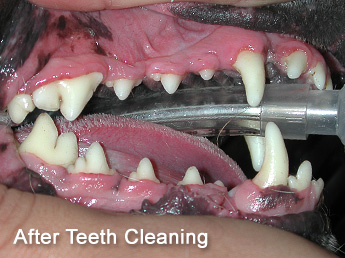 Both dental packages include anesthesia, dental scale and polish, full mouth x-rays,
Pre Surgical Screen Package
, pre- and post- care. Dental fee for pets 5 years of age and older includes IV fluid therapy. Necessary extractions are charged separately - please ask your veterinarian for more information. Should your pet need extractions, pain medication is required.
OraVet Dental Sealant
provides an invisible barrier that prevents plaque- and tartar-forming bacteria from attaching to teeth. As part of an OraVet application, a concentrated base coat of sealant is applied to the teeth after they are cleaned and polished. This significantly reduces plaque and tartar build-up, therefore reducing gum disease, tooth decay and extending the period of time between dental cleanings. The sealant is maintained with a once weekly application of the gel- which is smeared around the gum line and attaches to the teeth electrostatically- or a daily Oravet chew.
• Take-home refill kit: $27.00