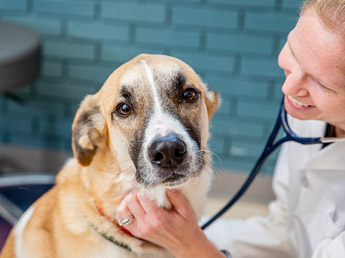 Wellness & Medicine
Wellness Exams
When it comes to your pet's health care, prevention is the key. Our veterinarians recommend that your pet receives a physical exam at least once a year, though more frequent exams are encouraged. Regular physical exams are just as important for your pet as they are for you. Exams give a complete picture of your pet's health and are useful in detecting diseases and other health problems in the early stages - before they become more difficult, and more expensive, to treat.
Our veterinarians perform a complete examination of your pet. We listen to your pet's heart and lungs, evaluate his or her vision, check for unusual lumps, look at your pet's teeth and oral cavity and check your pet's joints for swelling or stiffness. We may also perform routine blood and urine tests as well as tests for internal or external parasites. During the exam, we also discuss with you home health care options for your pet, and we are more than happy to answer any questions you may have.
Wellness Packages
Webster Groves Animal Hospital & Urgent Care Center offers a number of specially-priced wellness and pregnancy packages for our clients. Click here to view our specials and packages page for details and pricing information.
Internal Medicine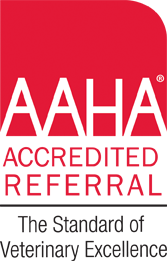 Sometimes one of the frustrations of dealing with a sick pet is that you cannot simply ask him/her what is wrong. Therefore, our veterinarians have invested in the latest advanced diagnostic technology. When your pet is not well, we need to find out what is wrong. After performing a thorough examination, a series of diagnostic tests is often necessary in order to identify the medical condition.
Our veterinarians are knowledgeable and have a large amount of expertise in diagnosing and treating complex internal medicine cases such as kidney, heart, respiratory, immune-mediated and endocrine diseases. We also have numerous specialists in close proximity that can offer more specialized care and diagnostics for complicated cases.
David Burgener, DVM, DACVIM, is particularly specialized and experienced in this area of veterinary medicine. is referral accredited by the American Animal Hospital Association (AAHA) for Internal Medicine.
Microchipping
Every year, millions of pets go missing and many never return home. Microchipping your pet is a safe, easy way to prevent this tragedy. A microchip about the size and shape of a grain of rice is implanted under your pet's skin between the shoulder blades. The microchip contains a unique number that corresponds to a national pet database that includes your pet's vital information. Veterinary hospitals and animal shelters across the country have special scanners that allow them to detect and read the microchip, leading to a fast, safe recovery for your pet. We use the Avid microchip system.
Not Just Your Urgent Care Vet!
Webster Groves Animal Hospital & Urgent Care Center now offers a secondary office that exclusively provides wellness & vaccination appointments for healthy pets. Located one block East of our main hospital at 7906 Big Bend Blvd. Webster Groves Animal Wellness Center was formed with one goal in mind – providing exceptional wellness care & vaccination appointments for healthy pets in a relaxing & quiet environment.