"Webster Groves Animal Hospital & Urgent Care Center
The Pharmacy you have come to trust!"
Please note: all prices are subject to change without notice.
We have a walk up pharmacy staffed 7-days a week from 7:30am-10:30pm. Should you need to contact the pharmacy, call us at 314-968-4310 ext. 430, or send an email to wgahrx@webstervets.com. We would be happy to ship items as well, if you need to request a refill.
Rebates are available for select products. Call or email for additional information.
Heartgard™ Plus
Every dog is at risk for getting heartworm disease, a potentially deadly condition. Fortunately, prevention is easy with Heartgard Plus (ivermectin/pyrantel), because dogs prefer the taste of these real beef chewables.

Given once a month for life, Heartgard Plus helps ensure your pet has guaranteed protection from deadly heartworm disease. Heartgard Plus also treats and controls hookworms and roundworms. Heartgard Plus is well tolerated by most dogs. All dogs should be tested for heartworm infection before starting a preventive program.

Sentinel™
Flavor Tabs are a monthly oral preventive that guards against heartworms (Dirofilaria immitis) and fleas as well as adult roundworms (Toxocara canis, Toxascaris leonina), adult hookworms (Ancylostoma caninum) and whipworms (Trichuris vulpis).

As with other heartworm preventives, dogs must be tested for heartworm prior to using SENTINEL Flavor Tabs. In a small percentage of treated dogs, digestive, neurological and skin side effects may occur.

Revolution™
Revolution is the safe, simple way to protect your dog or cat from a range of harmful parasites. This monthly topical application prevents heartworms while controlling fleas and ear mites. Revolution is safe for use on puppies and kittens over six weeks of age and is waterproof after two hours, so it remains effective even after shampooing, swimming, rain or exposure to sunlight.

NexGard™
NexGard is a flea and tick killer in a beef-flavored chew.NexGard for dogs kills adult fleas before they lay eggs. It also kills the American Dog Tick. It is a delicious, soft chew that dogs love.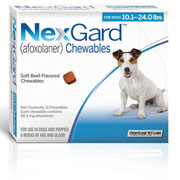 Bravecto® Chews
BRAVECTO is a tasty oral chew that gives your dog up to 12 weeks of protection against fleas and ticks. For cats, this product is offered as a topical product, not an oral product. It provides broad-spectrum and long-lasting protection which starts killing fleas within 2 hours and treats and controls 4 tick species.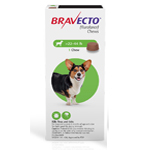 Bravecto® Topical
BRAVECTO is a safe and effective topical flea and tick treatment for dogs and cats that provides up to 12 weeks of protection. It provides broad-spectrum and long-lasting protection which starts killing fleas within 2 hours and treats and controls 4 tick species.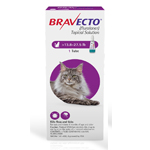 Frontline Gold™
FRONTLINE Gold has a triple action formula. Its 3 secret weapons: fipronil, (S)-methoprene and pyriproxyfen make it relentless at killing fleas, flea eggs and larvae, as well as ticks. The protection doesn't quit all month!

Rimadyl
Non-steroidal anti-inflammatory prescription medication (NSAID) used to help relieve the pain and inflammation associated with OA, joint abnormalities, and can also help relieve pain from surgery.

To add an item to your shopping cart, select it from the drop-down list. If an "Add to Cart" button does not appear, please check your browser settings to make sure JavaScript is enabled. Adding an item to the shopping cart does not oblige you to purchase it. You may remove items from the cart by clicking on "View Cart" below.