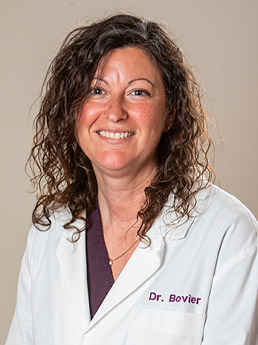 Christine Bovier, DVM
Associate veterinarian, Dr. Christine Bovier has practiced medicine at Webster Groves Animal Hospital & Urgent Care Center since June of 1996. Hailing from St. Louis, she began her undergraduate studies in Animal Science at Purdue University, but prior to graduation Dr. Bovier was granted early admission to Purdue University's School of Veterinary Medicine in 1990. She graduated with her Doctorate of Veterinary Medicine in 1994. Her area of particular professional interest is surgery.
Dr. Bovier's home is filled with pets, and she enjoys the companionship of five dogs: two Black Labs named Blue and Violet, two Chocolate Labs named Red and Jade, and a Blood Hound mix named Five. She also has three cats named Luna, Serina, and Diablo. When she's not busy with her duties at the hospital, Dr. Bovier can be found walking and swimming with her dogs, gardening and quilting.