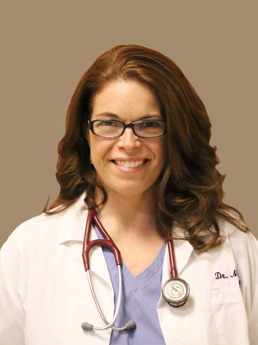 Rhonda Moseley, DVM
Dr. Rhonda Moseley joined Webster Groves Animal Hospital as a veterinarian in January 2014. She had worked at the hospital previously as a technician before attending veterinary school.
Dr. Moseley was born in Rochester, New York, and lived in Pittsburgh until age 9, when her family moved to St. Louis County, Missouri. She attended the University of Missouri-Columbia, where she earned her bachelor's degree in psychology. From there, she went on to earn a master's degree in social work from Washington University. She returned to the University of Missouri to attend its College of Veterinary Medicine and received her Doctorate of Veterinary Medicine in 2005.
Her areas of special professional interest include dentistry, internal medicine, and the human-animal bond.
Dr. Moseley is married to John, a chef who enjoys skiing, running, history, and sports, and they have two sons, Nate and Jackson. Her hobbies include cycling, traveling, baking, swimming, and music. The family has a miniature Schnauzer named Willow, a Siamese mix named Jewel, and a domestic shorthair orange tabby named Pumpkin.